Debt investors
"Our priority continues to be strengthening our balance sheet, so that we remain resilient against market shocks and have the financial flexibility and capacity to invest for the future. We will do this by targeting a Debt Ratio of around 3x and holding a significant liquidity balance."
Patrick Lewis, Group Finance Director, 2018 Annual Report and Accounts
Financial sustainability and KPIs
Financial sustainability is one of the three strands of our Partnership strategy. We measure our financial sustainabilty through three KPIs; Return on invested capital, Profit per average FTE and Debt ratio.
Debt Ratio – Total net debts as a multiple of cashflow
Total net debts represents the total borrowings of the Partnership including net debt adjusted for an estimate of non-liquid cash, the IAS 19 pension deficit net of deferred tax, and the present value of future rentals payable under operating leases. Cash flow used in the Debt Ratio is cash generated from operations before exceptional items and Partnership Bonus less spend on tax and total finance costs, which includes implied interest on operating leases.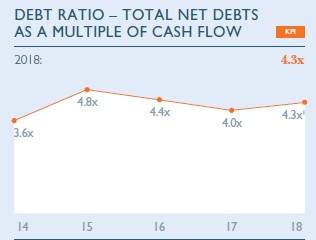 Return on invested capital (ROIC) %
Post tax profit, adjusted for non-operating and exceptional items as a proportion of average operating net assets, adjusted to reflect a deemed capital value for property lease rentals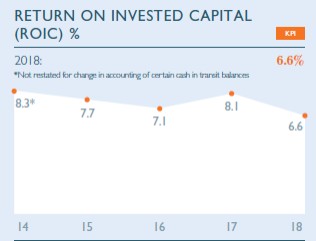 Partnership profit per average FTE £000
Profit before Partnership Bonus, tax and exceptional items, divided by the average number of full time equivalent.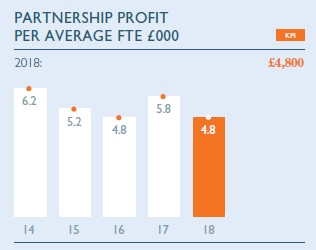 Presentations
Unaudited interim results Q&A - 13 September 2018
Listen to the unaudited interim results Q&A

Analysts and bondholders strategy update 27 June 2018
John Lewis Partnership strategy update presentation